FREE / DONATIONWARE SAMPLE LIBRARIES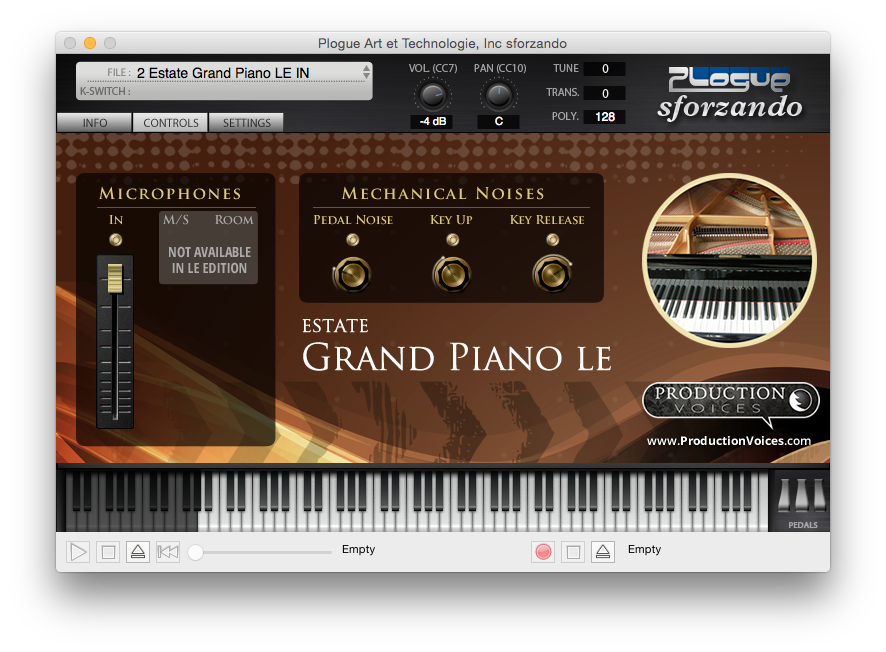 Estate Grand LE for sforzando
The Production Voices' Estate Grand Piano is a beautifully sampled Kawai GS 60 6'9″ grand piano. It was recorded with care and only the finest equipment at a country estate in the heart of corn country in Southern Ontario Canada. Note: This is the sforzando edition that uses the FREE Plogue sforzando player.
FEATURES:
1.8+ GB sample size uncompressed.
Up to 10 velocity layers per key (Up to 25 samples per note: Pedal up, down and release samples).
Full pedal down and pedal up samples.
Authentic sustain pedal & mechanism noises!
All samples are taken from the larger 11 GB Estate Grand for sforzando.
Self-contained standalone player. No paid software required to run!
Works with all major Mac & PC DAW's such as Pro Tools, Logic Pro X, Sonar, Cubase and more!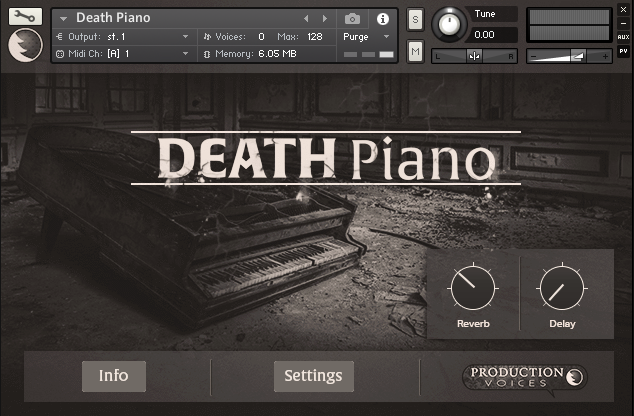 Tortured, Demented & Beautifully Flawed
Death Piano LE is the Lite Edition of Death Piano, an alternative take on Piano Sample Libraries that celebrates the obscure. Full of reverse samples, lo-fi gritty goodness, synthesis shaped tones, morphed massacred sounds and more. Designed for Kontakt 5, Death Piano LE contains the first few presets from the larger Death Piano and is a collection of piano oddities that is sure to inspire film composers, pianists, songwriters, producers and more.
Note: Death Piano LE requires the full version of Kontakt 5.7 or higher. (Not for Kontakt Player)
FEATURES:
Steinway D Concert Grand Piano samples recorded in concert hall
Reverse piano samples with timing variations for different tempos.
Custom Reverb Impulse Responses
Synthesis engine includes complete complement of Filter, Envelope and LFO modulations.
The product demos below have a limited range of notes allowing you to try the sample libraries and get a sense of their quality and playability. The Compact libraries use the free sforzando player while Production Grand 2 LE demo requires the full version of Kontakt 5.8 or higher (not for Kontakt Player).