Description
9′ Concert Grand Piano in your computer!
Over 10 GB*
Format: FREE Plogue sforzando!
Delivered Immediately by Download
Concert Grand Compact Features:
Recorded with Neumann "Golden" M149 tube mics just outside the piano lid
24 bit 96k source samples reduced to 16 bit 44.1k using Goodhertz conversion
Round-robin pedal noise samples with normal and loud settings
Sampled key up mechanical noises from the actual keyboard action
Sympathetic Resonance with on/off and volume controls
Sostenuto pedaling
Recorded at world-Class Toronto studio through classic Neve console
Burl Mothership boutique-quality A/D converters used
Premium API microphone preamps used
12 – 15* velocities pedal up (selected from over 20 sampled velocities)
12 – 14* velocities pedal down (selected from over 20 sampled velocities)
8* velocities release samples (selected from 16 sampled velocities)
Ultrafast loading
Extremely memory efficient thanks to lossless FLAC compression
Concert Grand Compact has a FREE demo version that allows you to test drive Concert Grand Compact with just C's and a limited range from G3 to C5, just enough to get a feel for how Concert Grand Compact will fit into your playing style.
Get the DEMO VERSION HERE.
Digital download delivery: Immediately after purchase, download links are provided.
The files can be expanded using any ZIP utility. Mac users can simply double click the downloaded file.
Warning: Concert Grand Compact is not without mechanical noises from the hammer mechanism! Don't say we didn't warn you! If you want a piano sample library that is devoid of piano noises, you should look somewhere else. If you are looking for a warm yet articulate concert grand piano, this library delivers.
System Requirements:
Requires 64 bit version of Plogue sforzando available HERE for free.
Mac OSX 10.7 or greater or PC with a 64 bit version of Windows
2 GB of free hard drive space. 8 GB RAM. Fast 7200 RPM hard drive or a solid state drive.
Solid State Drive or 7200rpm Hard Drive recommended for best performance.
*Note about file size: Concert Grand Compact samples are provided in FLAC format. FLAC is a loss-less file format meaning that it will sound exactly like the uncompressed WAV source files from the sampling session but take up less than half the disk space with no audio quality degradation. Concert Grand Compact source sample size before compression is over 10 GB! The digital delivery size is just about 3 GB with no loss in quality. * Individual note velocities per note may vary slightly.
Concert Grand Compact User Manual:
Concert Grand Compact SFZ User Manual
Upgradeable to the full version of Concert Grand:
Concert Grand Compact is upgradable to the full version of Concert Grand, should you purchase Native Instruments Kontakt at a later time. If you are a Concert Grand Compact registered user wishing to upgrade to the full Concert Grand, please contact support and request the upgrade.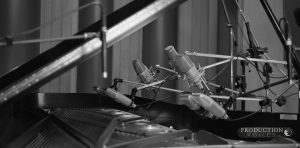 Concert Grand Compact was sampled from a New York built Steinway D with a model number starting with 589 ***, making it built after 2010.
Disclamer: Production Voices is in no way associated nor endorsed by Steinway, Native Instruments, Plogue, Yamaha or any other company, product or trademark mentioned.