The Halfling is a fantasy world inspired sample library for Native Instruments Kontakt 5.7 and above (not for Kontakt Player) that starts with a Hobbit-sized upright piano and extents into a soundscape instrument that includes the spellbound sounds of a Hobbit or Halfling. The upright piano alone is worth the price of admission into this incredible sample library, but the piano samples are just the beginning! Inspired by Production Voices own Death Piano, The Halfling is tortured, demented and beautifully flawed in a similar vein, but this time with a new sample set that includes throat singing samples, Wurlitzer 200A lid off, thumb piano, lo fi choir samples, wine glasses, bowls, church organ, electric pianos and so much more. All samples are new content recorded for this library. The samples are used as building blocks to create piano and soundscape oddities that are sure to please.
The Halfling is a fantasy inspired virtual instrument for Native Instruments Kontakt 5.7 and higher (not for Kontakt Player) that combines both hifi and lofi samples to create otherworldly sounds suitable for game composers, film composers, producers, pianists and musicians.  
SAMPLESET:
4 stereo microphone perspective upright piano; Pipe Organ samples set: Full rank and Flute rank; Thumb Piano; Glass: wine glasses, bowls; Male Throat Singer: Ahhs, Eee, Hmm, Vowel Morphs, Drones; Choir: lofi samples male and female; MKS 20 EP samples; Wurlitzer 200A lid off samples (non-amplified); Jewellery Box samples; Toy Piano; Many more oddities…
The library is 12 GB in size after lossless compression and comes with 300+ snapshots/presets.
Requires Kontakt 5.7 or higher. Compatible with Kontakt 6. NOT for Kontakt Player.
A system that meets the minimum system requirements for Kontakt.
Solid State Drive recommended.
12 GB of free hard drive space.
Fast internet connection to download the files.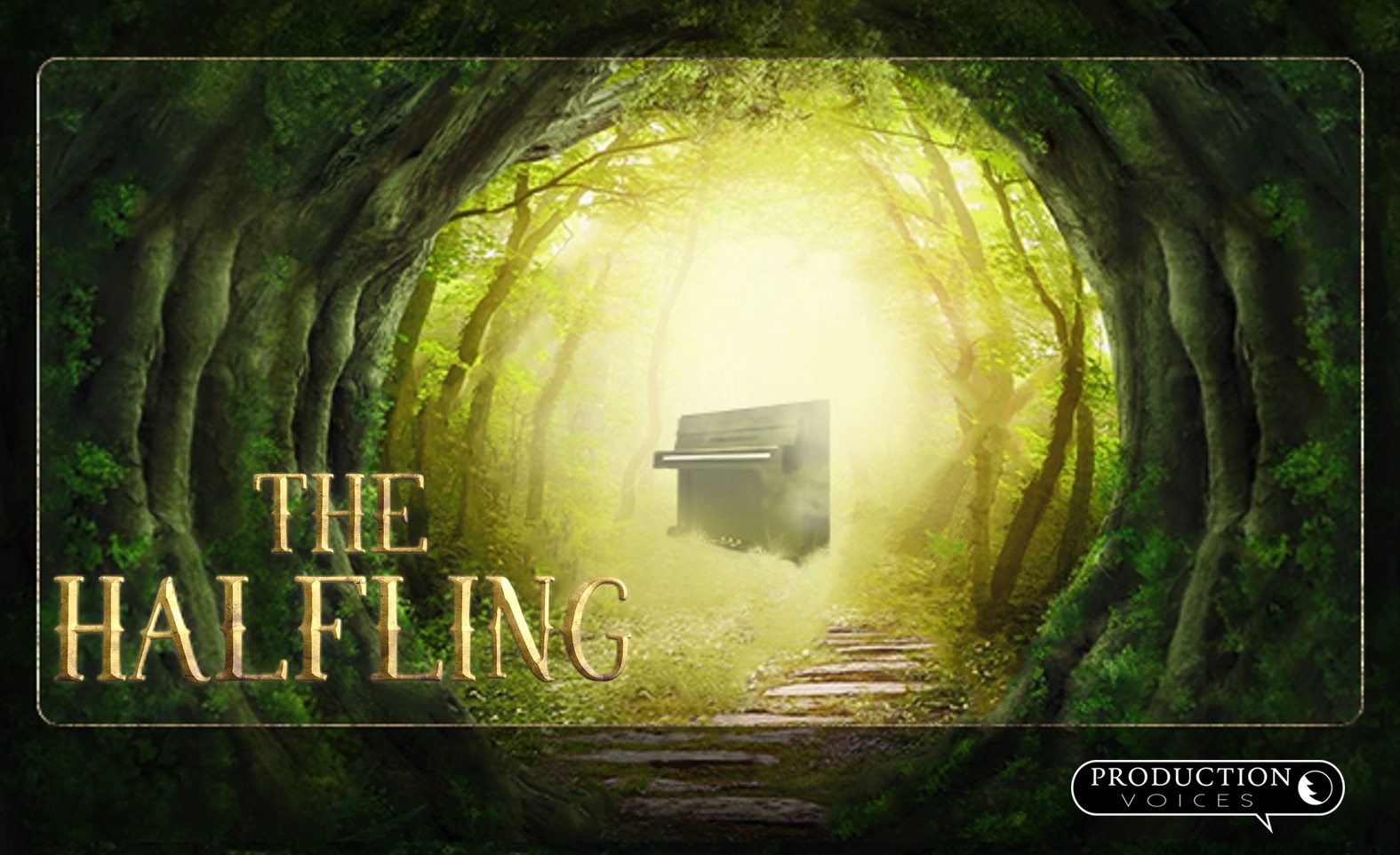 SPELLBOUND SOUNDS
Hundreds of presets inspired from a hobbit-sized piano to throat singing and more!
ENCHANTMENT PAGE
Morph and Manipulate your Spell Sounds
Up to four layers/spells can be combined
Low Pass Filters and High Pass Filters
Envelopes for Amp, Pitch, LPF & HPF
LFO sections for Amp, Pitch, LPF & HPF
Cast Morph: Phasing/Flange
Cast Repeat: Delay Effects 
Cast Desintegrate: Bit Crusher
Cast Distort: Distortion
Cast Warp: Chorus
Cast Spin: Leslie Effect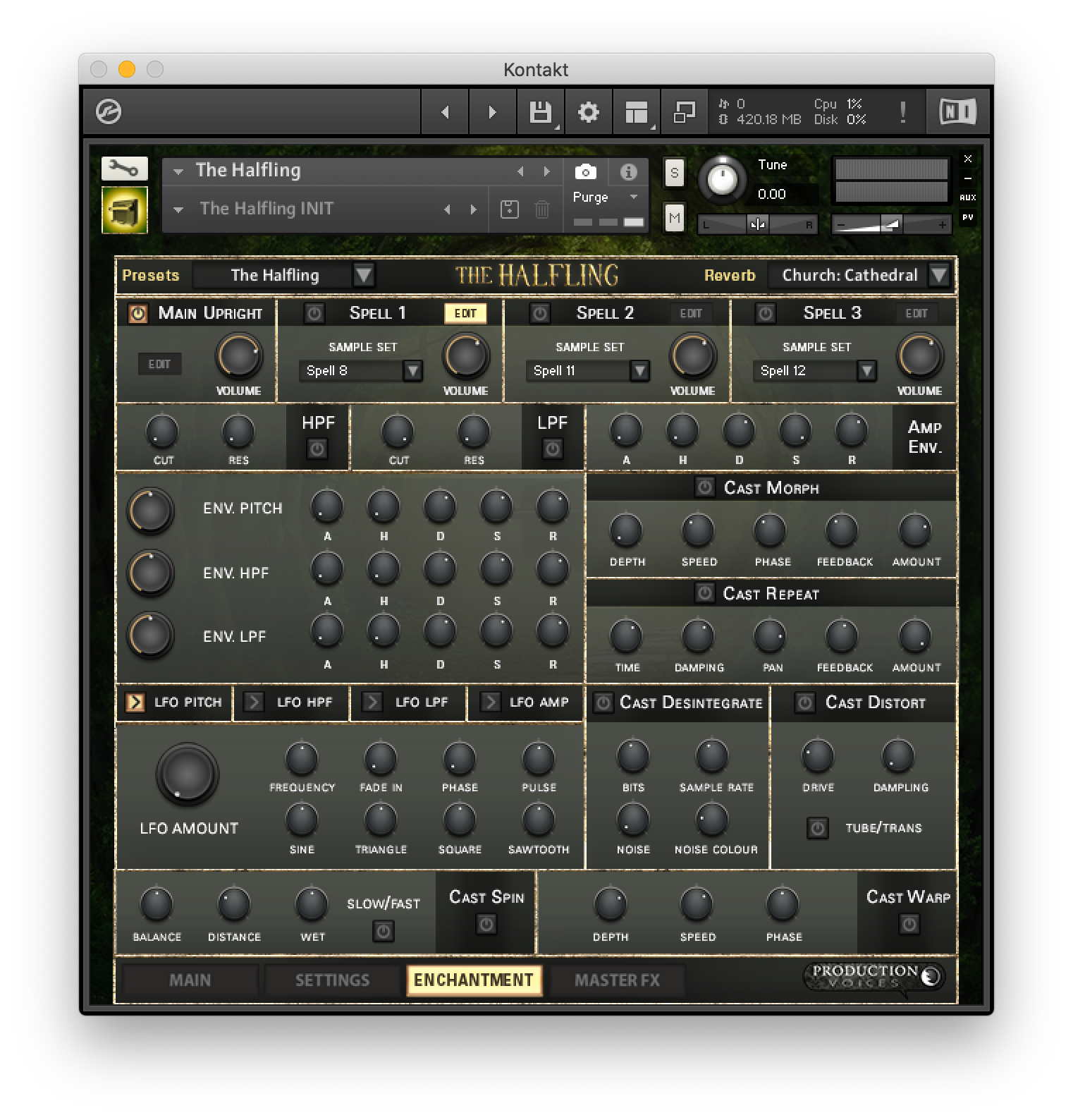 PRESETS PLAY THROUGH LONG VIDEO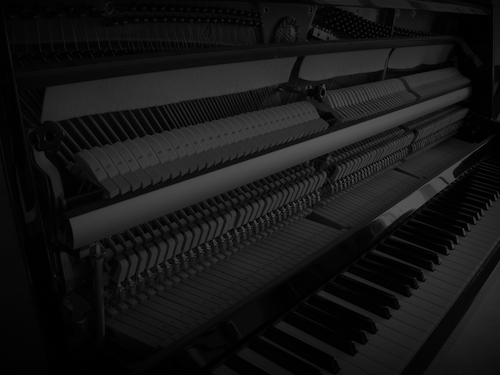 UPRIGHT PIANO with FOUR STEREO MICROPHONE PERSPECTIVES
This apartment-sized piano was hand sampled with pedal up, pedal down, key releases and round robin sustain pedal noises for a unique playing experience. Quality microphones and preamps were used to capture the samples at 24 bit 44.1k .
Where other piano sample libraries reach for the biggest concert grand pianos available in the largest studios or concert venues, The Halfling does the opposite. It gives you the intimate sound of a practice piano in a living room setting.
Character abounds in The Halfling upright piano!
THROAT SINGER
The Halfling wouldn't be the hobbit inspired instrument it is without the multi-sampled dynamic Throat Singer. There are vocal drones, Ahhs, Eees, hums and vowels sweeps. All these have several variations controlled by key velocity similar to round round.
The throat singing sounds range from EVIL to intimate to other-worldly! The vocalist who performed for the samples had great control and a fairly wide range for this difficult and unusual singing style.
Expect to hear grunts, goblins and lower Dr. Claw-like sustained vocal samples that range from scary to inviting.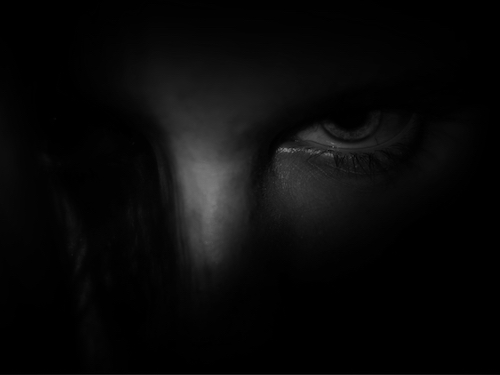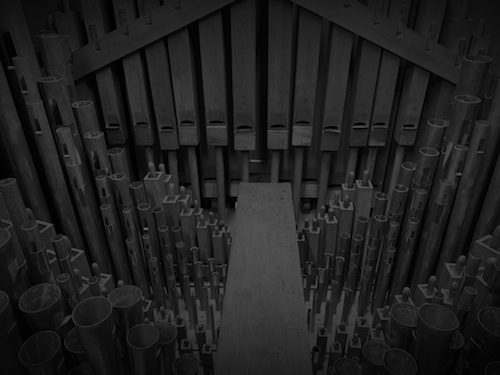 TRUE PIPE ORGAN SAMPLES
The Halfling contains a Full Pipe Organ setting and a wooden flute rank sample set from an upcoming organ sample library. Just the omni room microphones are used in The Halfling from the 56 rank 3000+ pipe future sampled pipe organ library. The organ is a classic French-Canadian made Casavant Fréres 1908 rebuilt by Guilbault-Thérien Inc. in 1996. The organ sounds in The Halfling are used for sound design and texture as opposed to authenticity. 
THE HALFLING FORMAT COMPARISON
Both the sforzando and Kontakt versions of The Halfling use the same sample set. The only major differences are that sforzando version has 2 instead of 4 piano microphone perspectives and that the samples are 16 bit instead of 24 to save space.
If you own Kontakt, the Kontakt version of The Halfling is for you. If you do not own the full version of Kontakt, the sforzando version of The Halfling is for you.
24 BIT 44.1 kHz Upright Samples

4 Microphone Perspectives

Requires Kontakt (not Kontakt Player)

Over 300 Presets
The Halfling for sforzando
Sforzando
16 BIT 44.1kHz Upright Samples

2 Microphone Perspectives

No Paid Player Required

About 100 Presets