PRODUCTION GRAND 2
Recording Studio C7 Grand Piano Sample Library for Kontakt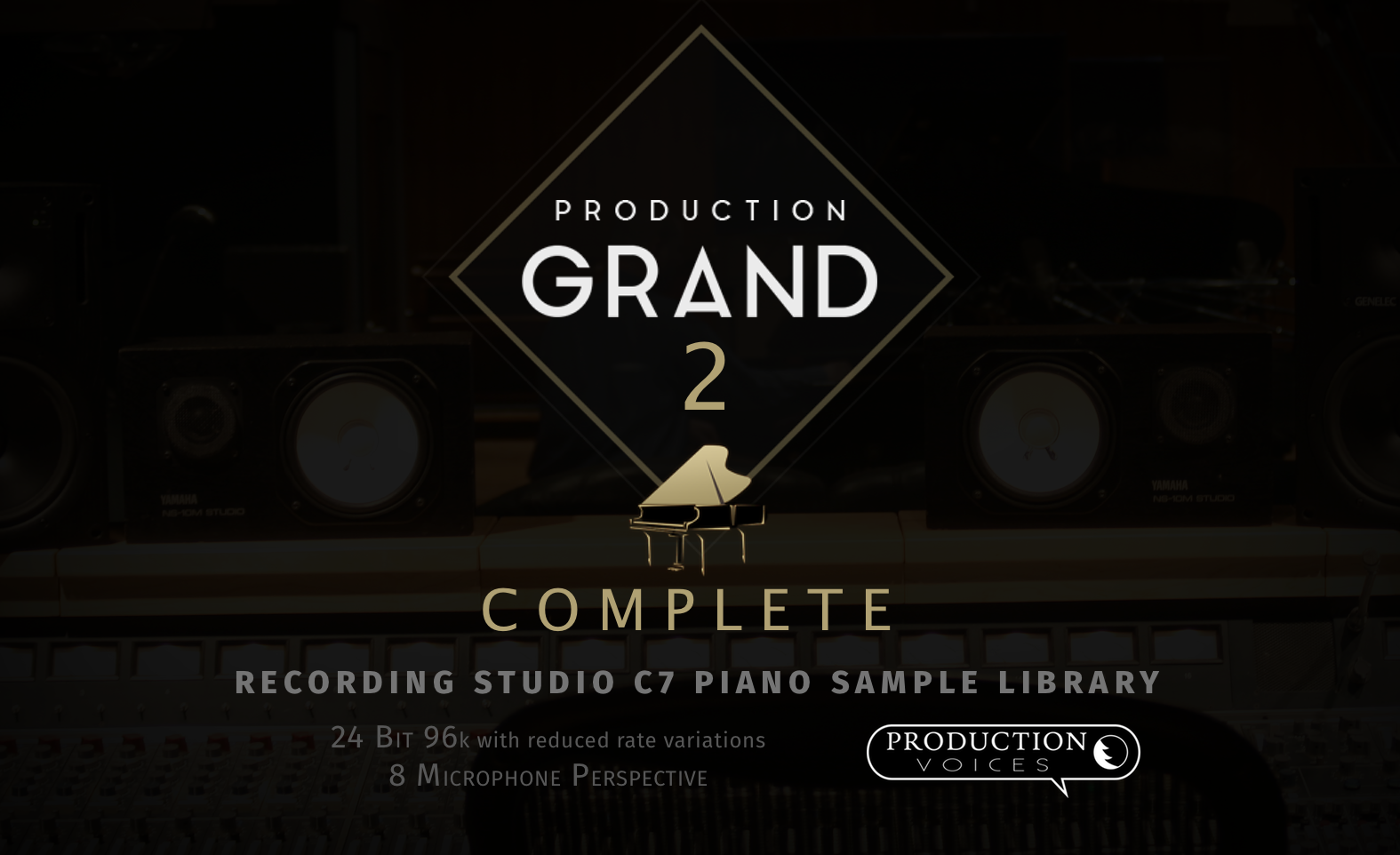 PRODUCT DESCRIPTION
Production Grand 2 is an exceptionally high-quality piano sample library for NI Kontakt 5.7 and above, consisting of eight microphone perspectives and over 120,000 samples of a Yamaha C7 grand piano recorded in a world-class recording studio. The library is 437.5 GB in size*!
If you walk into a recording studio today, chances are you are going to find a Yamaha C7, the iconic grand piano that is heard on countless recordings. Every engineer has there own way of capturing the sound either with the position of the microphones or the type of microphones used. Production Grand 2 aims to capture these tones in a piano sample library that gives you great flexibility in microphone placement and choice. The iconic studio piano sound can be added to your performances and productions the same way a producer or engineer would in the studio. You can experiment with all the tonal combinations or simply choose one of the presets we made for you. Either way, you are in for a piano sonic treat.
Production Grand 2 is ideal for Studio Production, Stage Production, Film Score Production, Performance and more!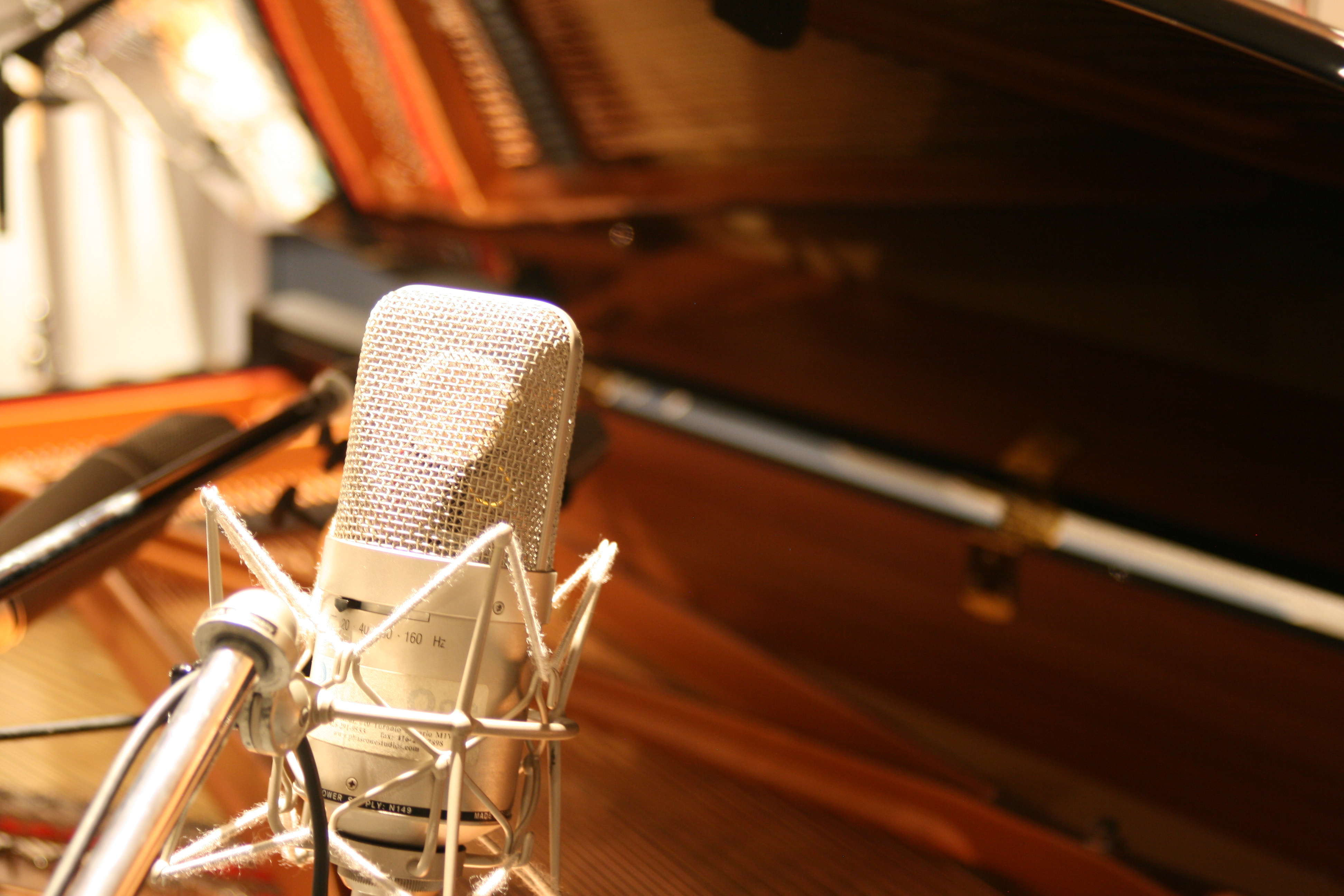 PRODUCTION GRAND 2 PRODUCT VARIATIONS
8 Microphone Perspectives

24 Bit 96k Samples

24 Bit 44K Samples

16 Bit 44k Samples

Requires full version of Kontakt (not included, not for Kontakt Player)
8 Microphone Perspectives

24 Bit 96k Samples

24 Bit 44K Samples

16 Bit 44k Samples

Requires full version of Kontakt (not included, not for Kontakt Player)
8 Microphone Perspectives

24 Bit 96k Samples

24 Bit 44K Samples

16 Bit 44k Samples

Requires full version of Kontakt (not included, not for Kontakt Player)
PRODUCTION GRAND 2 AUDIO DEMOS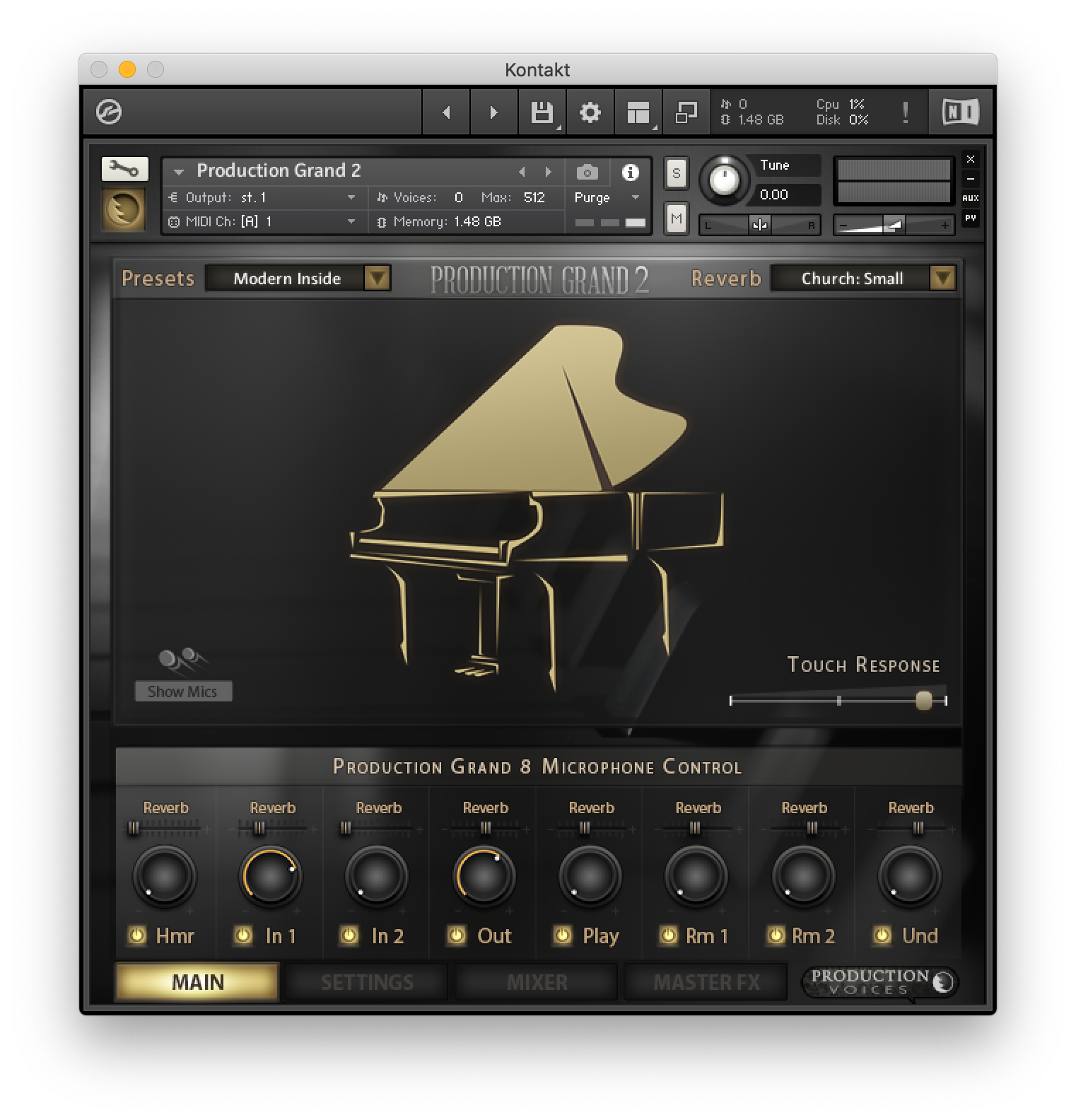 FEATURES
Production Grand 2 (Full version)
8 microphone perspectives
437.5 GB of samples before lossless compression
24 bit 96k source samples with 24 bit 44.1k and 16 bit 44.1k options
Round-robin pedal noise samples with normal and loud settings
Sampled key up mechanical noises from the actual keyboard action
Sympathetic Resonance with on/off and volume controls
Recorded at world-Class Toronto studio through classic Neve console
Burl Mothership boutique-quality A/D converters used
Premium API microphone preamps used
12 (selected from 16) machine precision velocities pedal up per key
12 (selected from 16) machine precision velocities pedal down per key
12 (selected from 16) machine precision velocities release samples
Advanced half-pedal control with catch
Custom installer to automate the installation process
AUTHENTIC SOUND CONTROL
The Settings Page allows for unique control over how the piano sounds and responds. Sympathetic Resonance adds overtones from held and struck notes the same way a piano does resulting in a piano playing experience close to the original.
Continuous Pedal allows you to half-pedal and use various pedal depths to create dynamic performances just like on an acoustic grand piano.
Should a softly played note be lower or louder in volume? Touch Response gives you control over the volume response of the sample library tailoring the touch and feel to your own performance requirements!
Add Recording Noise for an authentic studio recorded sound and Pre-Attack, the hammer mechanical noise which most libraries leave out, and you have finite control to perfectly craft your piano sound.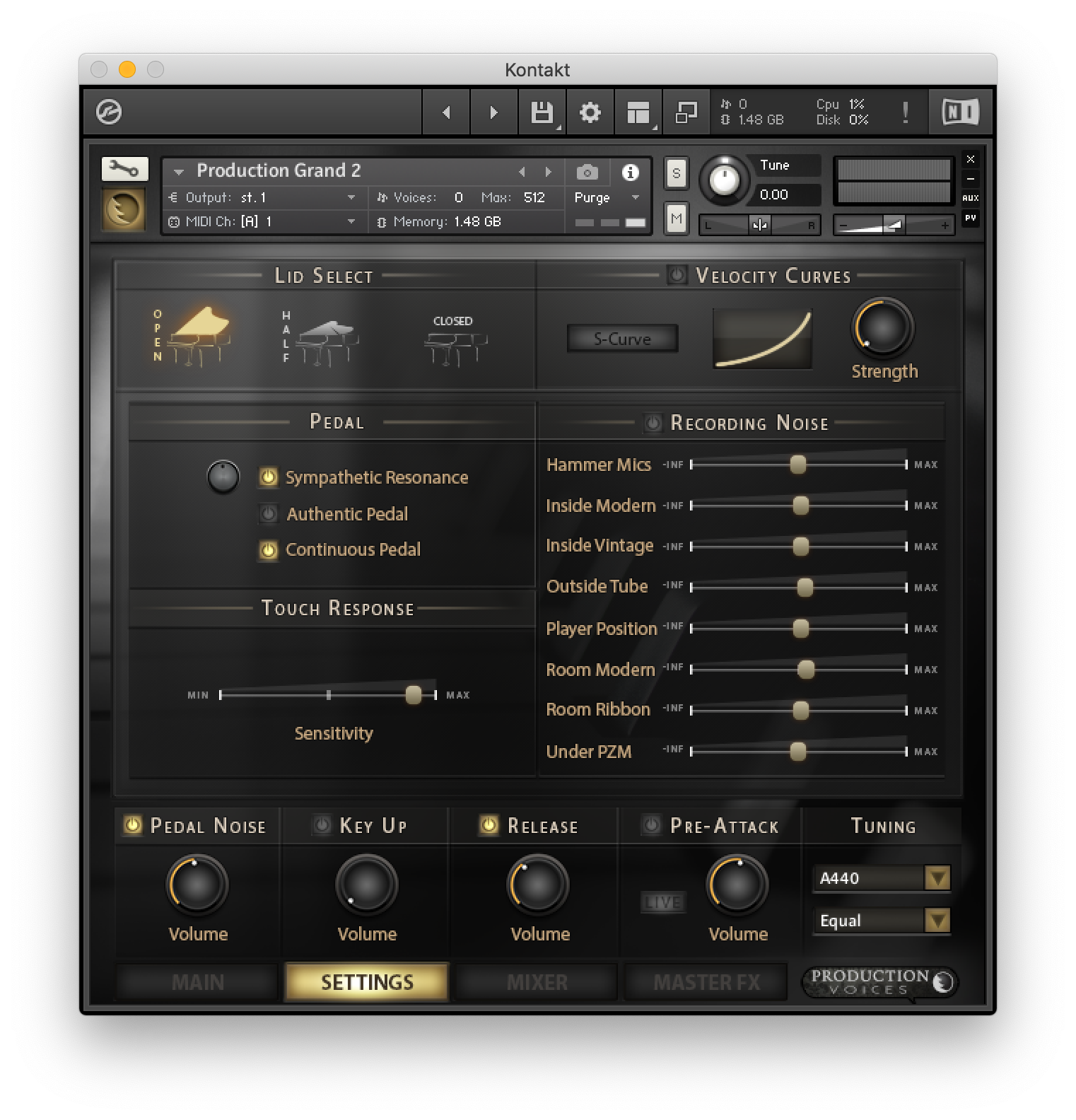 This is the BEST piano sample library I've ever used and I've used a lot of them. Synthogy, East West Quantum Leap Piano, Galaxy's Pianos, PMI's, etc, etc…. Production Grand blows them all away.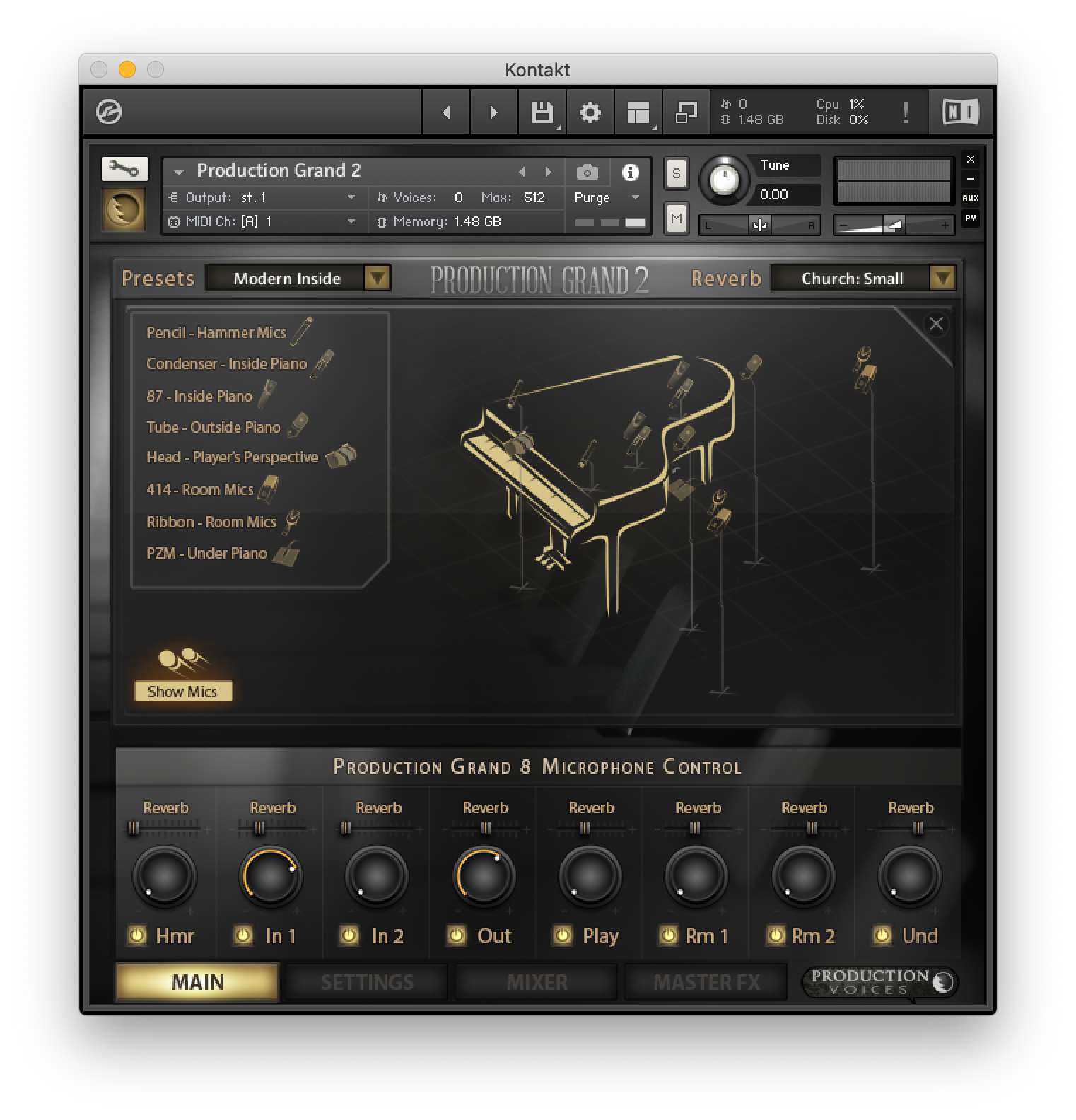 PREMIUM MICROPHONE SELECTION
Microphone selection and placement makes all the difference to a quality recording. Audio engineers the world over have relied on the sound quality and tone of standards such as U87 and 4006 microphones. B&K (now DPA) 4006 microphones are used on classical recordings for their true-to-life linear sound. The signal path for the sampling of Production 2 Grand like Concert Grand, our Steinway D piano sample library, represents the best of the best from microphones to preamps and to converters. It's a bold claim, but rings true in the sound of Production Grand 2. 96k gives clean crisp audio that contributes to the high definition sound quality when several microphones and several notes of polyphony are used at the same time.
B&K 4006 – Hammer
Vintage Neumann U87 – Inside
Rode NT2A – Inside
Neumann M149 – Outside
Crown SASS MKII – Player position
PZM – Under
Coles 4038 – Room
AKG 414 – Room
STUDIO GRADE MIXING CONSOLE
8 Microphone perspectives are impressive on their own, but how Production Grand 2 handles these sonic choices puts you in the engineer's seat when you are not on the piano bench. The mixer is a full complement SSL emulation with SSL simulated EQ and compression on every channel. Get the same control as if the piano were recorded on different tracks in a recording studio. Album quality production is the goal with Production Grand 2's mixer section.
Panning on every channel
Solo left or right channels
Invert stereo image on any channel
Dedicated pre-fader reverb send per channel
Multi-output DAW send – Send any channel to DAW mixer
Fully automatable parameters
Channel on/off purges samples to save memory
Mono can sum or be left or right
Full solo, mute controls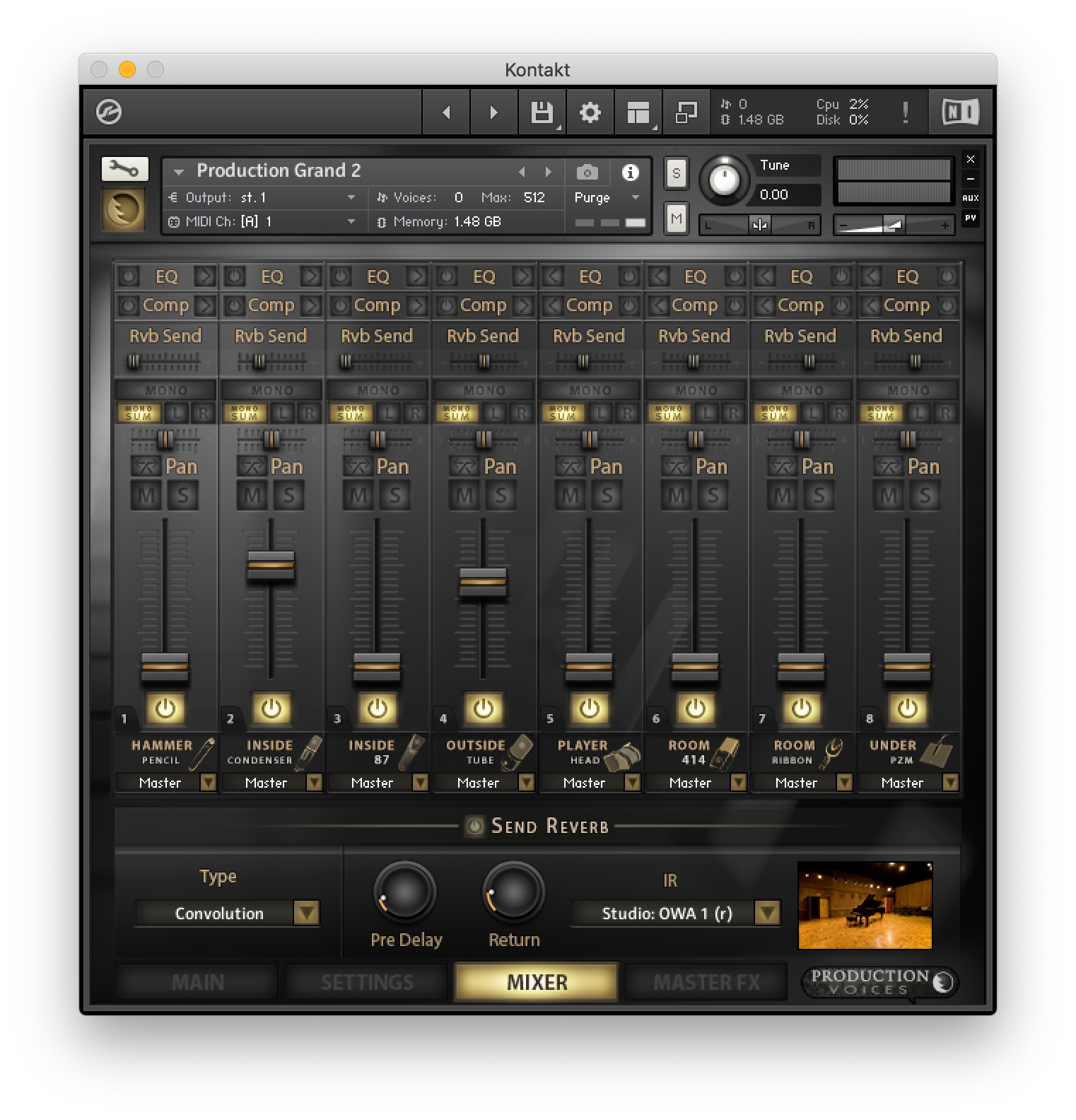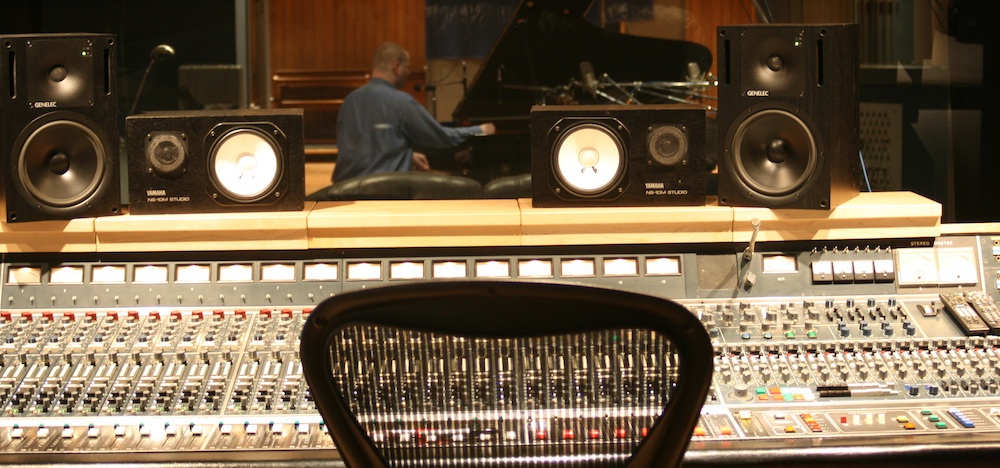 ICONIC STUDIO GRAND
Production Grand 2 is a sampled 7′ Yamaha C7. The tone is typical of these well-built Japanese pianos: bright and balanced! The conservatory branded C7 pianos have been heard on thousands of pop, jazz and even classical recordings. The Yamaha C7 is a studio standard and has been for many years. Performers love the tactile immediate response from digging into the keys and creating a sound that can cut through most band or studio productions. Many performers use this piano model live, on stage and on tour. It can be found in churches and hall around the world because they project so well and the sound is unbelievable! Now you can get a studio grand at your fingertips with all the controls that an audio engineer would have to create finished recordings right from the software! Production Grand 2 represents an incredible value for such a high quality sampled instrument.
I've recently started using Production Grand on some of my recent projects. It has a certain sound and presence that I really like. The multiple mic options allow me to quickly find the nuance that fits best in the mix. I love the simplicity, the realism and the fact that it just sounds great right
FILM COMPOSING
Here's what composers are saying about Production Grand 2
PRODUCTION GRAND 2 PROMO VIDEOS
Introducing Production Grand 2.
Check out what Producers have to say about Production Grand 2.
Hear what Performers have to say about Production Grand 2.
CUSTOM MADE PRESETS
Production Grand 2 has some amazing presets to get you started playing and enjoying the library right off the get go! These presets were crafted to sound great in a variety of styles and make use of the 8 microphone choices.
The reverb section contains 29 impulse responses all set with the right amount of pre-delay on each. There are plates, halls and studio reverbs to enhance the piano performance experience. Every mic perspective also has its own reverb send so the sound can be shaped based on what mics you are using. Many of the instrument presets make use of the built-in reverb.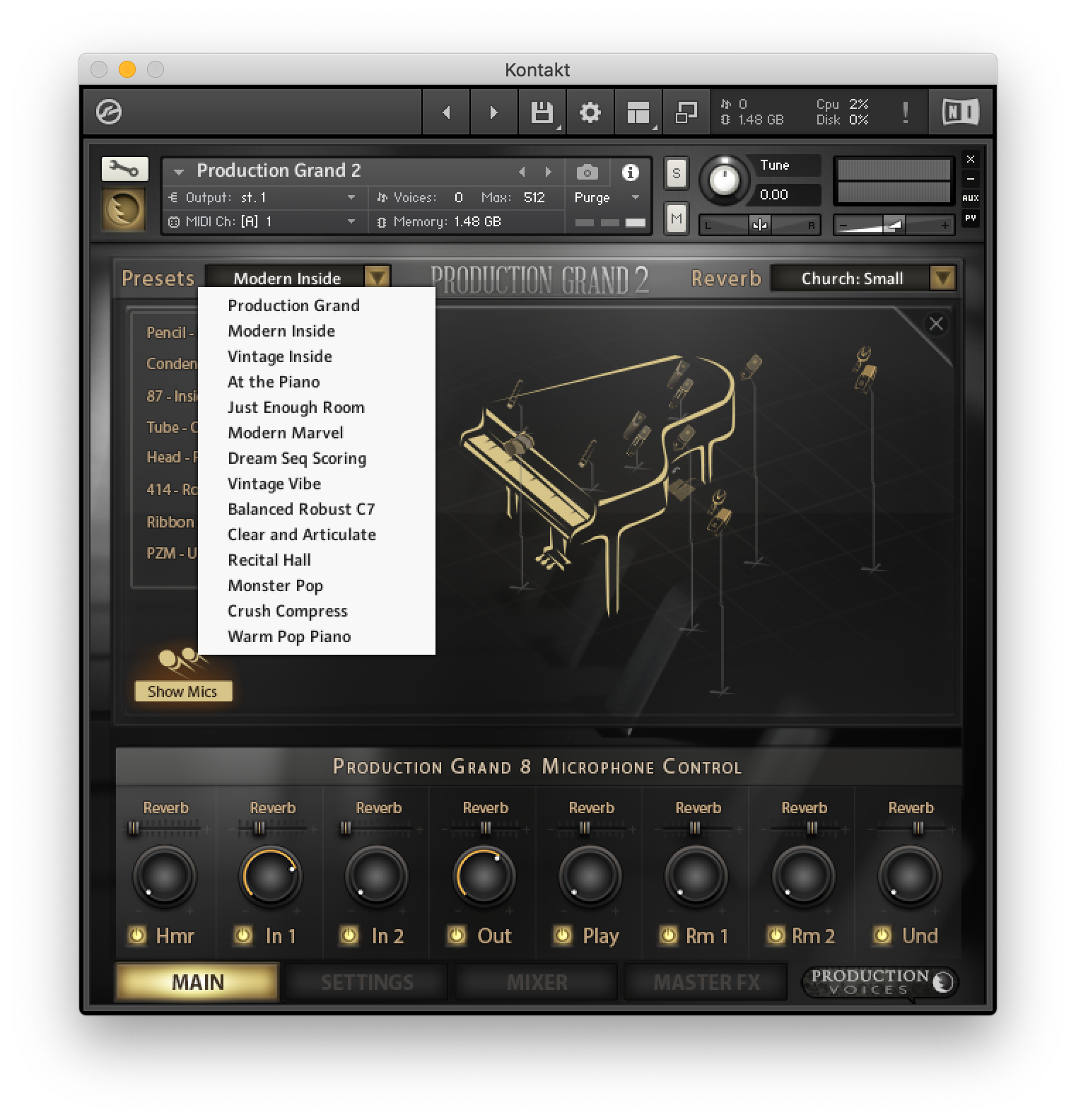 PRODUCTION GRAND 2 VARIATIONS
Production Grand Compact for sforzando uses samples from Production Grand 2 LE in the FREE sforzando player so you can enjoy the exceptional sound of Production Grand 2 without the added expense of Native Instruments' Kontakt software.