Description
Estate Grand Piano
Kontakt Format
Incredible Character with Remarkable Sound Control 
Version 1.2.1 contains 12 presets!
Version 1.2.1 is free to Estate Grand users and is available HERE.
11 GB*
3 Microphone Perspectives
Estate Grand Piano Features:
11+ GB Uncompressed. Delivered in lossless Kontakt compressed format around 6GB.
Up to 10 velocity layers per key (Up to 25 samples per note: Pedal up, down and release samples).
3 microphone positions controllable by the user.
Full pedal down and pedal up samples.
4215 samples!
Authentic sustain pedal up and down noises!
Controllable keyboard action/mechanism noises.
Independent control over stereo microphone pairs!
Adjustable Velocity Curves for the perfect feel on your keyboard.
Advanced Velocity Smoothing to make a seamless transition from softest to loudest note.
Advanced Authentic Pedalling that gives real resonance to notes already triggered when the sustain pedal is depressed.
Recorded at 24 bit 44.1 kHz with incredible detail and fidelity through Apogee Symphony I/O, Neumann and Rode microphones.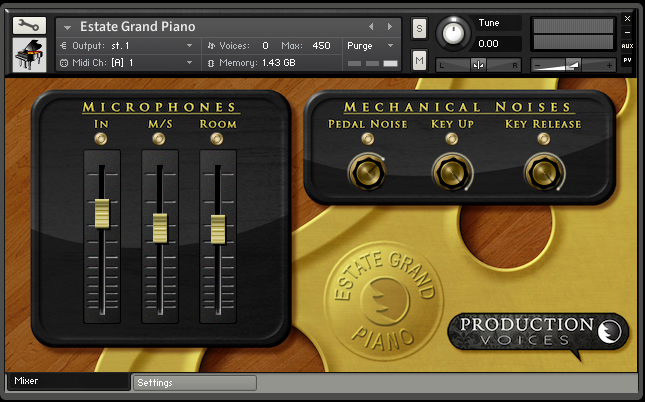 Microphone Perspectives:
IN – Microphones placed inside the piano for a strong crisp sound!
MS – Microphones just outside the piano for a balanced open piano and room sound!
RM – Microphones picking up a beautiful warm balance of mostly room and some piano.
Video Demo:

Audio Demos: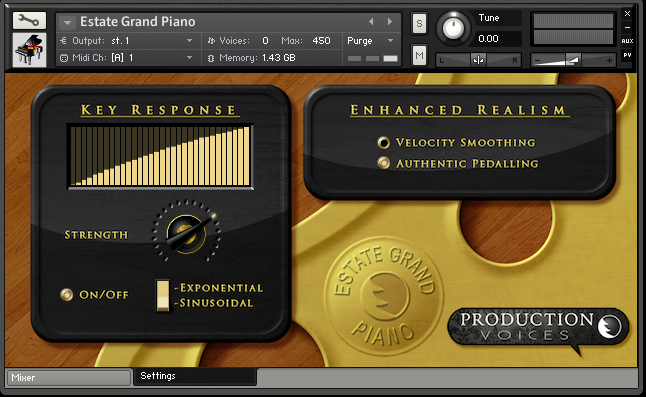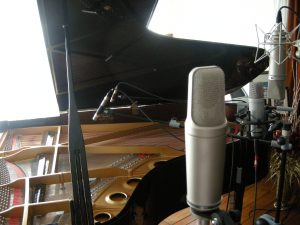 Description:
The Production Voices' Estate Grand Piano is a beautifully sampled Kawai GS 60 6'9″ grand piano. It was recorded with care and only the finest equipment at a country estate in the heart of corn country in Southern Ontario Canada. Note: This is the full version of our popular Estate Grand Piano LE.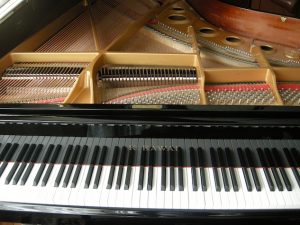 How does it sound?
The Estate Grand Piano is sampled from a grand piano that resides in the library of a country manor. The room is warm sounding and the piano overpowers the room just slightly filling the room strong overtones. Hence, the piano has a lot of attack! While sampling the grand piano, the owner of the manor mentioned that he auditioned several pianos before picking the Kawai. He had tried Steinways and other famous pianos, but fell in love with the character of the Kawai. It is not a "me too" piano, but a unique instrument that will add life to your live or recorded piano sound!
Sampling in the country presents its challenges! There are the birds and wildlife outside as well as the sounds of the manor creaking as it heats up with sun's heat and cools as the sun sets. The piano took several days to sample and countless hours to edit. If you listen closely, you may hear the rustling of leaves and a bird or two on the quietest of notes, but that's only if you listen intently enough to hear if we actual sampled the piano in an estate!
System Requirements:
Requires Kontakt 4.2 or Kontakt 5 or greater (not provided)
A computer that meets the minimum Kontakt requirements
7 GB of free hard drive space for piano samples
Note: Compatible with the full version of Kontakt 4 or Kontakt 5 only. Not for use with Kontakt Player. Estate Grand is also available in the free Plogue Sforzando format for users who do not own Kontakt.
*11 GB represents the fully uncompressed library. Kontakt lossless compression format was used to compress the samples from ~11 GB to ~6 GB.
Specifications subject to change (with or without notice) as updates and improvements are made.
Digital Download Requirements:
The digital download is in 4 ZIP parts. Each part is approximately 1.5 GB. Windows users require a ZIP utility to unzip the files. Mac users can simply double-click the files. Place the  Estate Grand Sample folders 2 through 4 inside the Estate Grand Sample folder before loading presets.
The Estate Grand sample files have been compressed in Kontakt from 11 GB to 6 GB with NO loss in audio quality!
Links to the downloads will be included with your purchase confirmation email. Downloads include Estate Grand version 1.2.1 update.