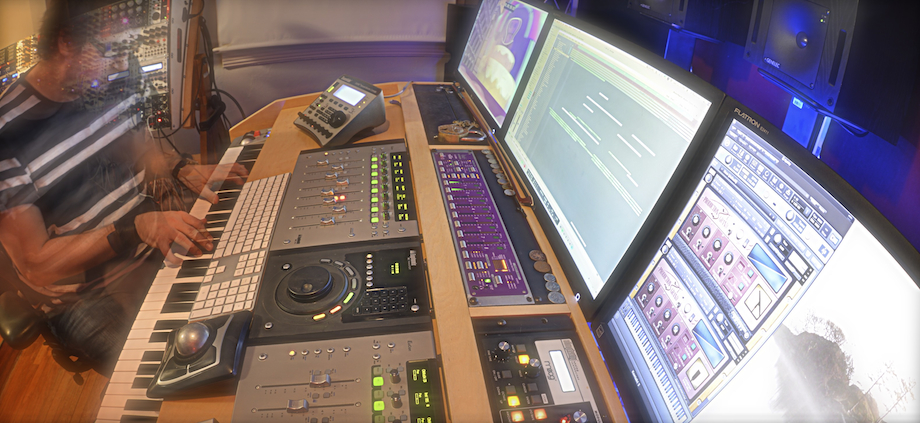 Production Voices Grand Piano is a refreshing, instantly playable (and enjoyable!) piano. It's an excellent sampled instrument and offers a no-nonsense Kontakt feature-set with only the most useful parameters tied to a GUI that doesn't get in the way: This is how every library should be!

I'm thrilled at how well it compliments my electronic-orchestral sound pallete.
Neil Parfitt

Composer
http://www.neilparfitt.com
I finally got a chance to load up Production Grand. My initial reaction is… Wow! Really great. I have a lot of piano libraries but, even immediately, I can tell that Production Grand has a certain quality that is unique and will become very useful in my future productions.
Tom Salta

Legendary Game Composer
Halo, Ghost Recon, Prince of Persia
http://www.tomsalta.com/
I am obsessed with virtual pianos and I've tried all of them. The detail in the Production Voices Pianos makes them special. The pedal up and pedal down samples and the velocity layers not to mention the recording quality, really make it feel like the real thing.
Dan Brodbeck
Producer / Juno Award winning Audio Engineer
http://www.danbrodbeck.com
I have used Production Voices' pianos on two full length records that are due to be released in the next month. One of the songs is a piano ballad and it sounds flawless.

It's great to finally have a high quality grand piano at my fingertips. The ability to control the nuances of a performance right through the mix stage while still maintaining crystal clear audio quality is something unachievable with a real grand piano.

The most important attribute with Production Voices products is that they sound real, and that's because they are! Jason has gone to great lengths to ensure he captures every variable a producer would want at their fingertips and many more you didn't think were possible.
Nygel Asselin
Producer / Audio Engineer
www.thefarmstudios.com
B.C. Canada
Other customer emails praising Production Grand:
This is the BEST piano sample library I've ever used and I've used a lot of them.
Synthogy, East West Quantum Leap Piano, Galaxy's Pianos, PMI's, etc, etc….
Production Grand blows them all away.
The different mics perspectives makes a HUGE difference. Even though EWQLP
piano offers 3 mic perspective….yours just sounds so much better and has more depth/space.
This is not the last product I will buy from you.  Looking forward to your future offerings.
Hoping you will make another major piano sample library like production grand. Please…always
offer different mic perspective.
I'm torn between telling everyone about it and using it as my secret weapon. ;P
I must say that I genuinely love your product. What blew my mind was the level of detail and richness I was hearing from each individual microphone perspective. I am very convinced that an effective combination of just two microphone perspectives will sound better than most of the piano sample libraries out there.
I am listening and testing now. I have to say so far I am incredibly impressed. Extremely Dynamic, incredibly realistic and so far, to my ears, extremely usable. There isn't a piano library that I have ever used that has come close to this.
And Production Grand is still my favorite sampled piano I've ever played.  I'm constantly amazed at the tones and responsiveness of it.  Many, many props to you for what you've created.  I use it for live performance 3-4 times a week and I even prefer practicing on it than my real acoustic piano.
Used it live this weekend for 2 gigs, from of my laptop, and it performed flawlessly in DFD mode in some piano intense music. It cut through the band quite well and I was pleased with both the sound and performance of the instrument.
What customers are saying about the Studio Grand Piano LE:
I've been using NI Alicia's Keys for a while now, but I was very curious about a more lightweight (and even higher value per money ratio) virtual piano. I'm very impressed with what you managed to do here, in regards to sound and loading speed – this will be my "instant action" piano whenever I feel I have to play immediately.

Looking forward to future products.
Alex Erben
Germany
Praise for the Estate Grand Piano LE:
I have to say I'm in love with the Estate piano — it's got a really epic sound and the outside and inside mics give it so much depth.
Kevin Wong
Artist
Grand Piano LE Bundle:
I loaded the Estate onto an existing midi track and it sounded terrific, a few tweaks of the controls and it was as if it was made for the track. The Kawai has a sweet sound and a quality that's astounding for it's size, truly a feat which can only be put down to the solid engineering behind it's creation. I can see for a lot of applications the Estate and Studio will do the job quite nicely, this will definitely go down as one of the surprise best buys of the year.
Clint O.
Australia