5 PRO PIANO LIBRARIES IN ONE BUNDLE
NO KONTAKT OR EXPENSIVE PLAYER REQUIRED!
Production Voices' SFZ Piano Bundle contains well over 30 GB of samples.
The bundle includes sampled Steinway D, Yamaha C7and Kawai GS-60 pianos and a Mark V electric piano.
Digital download delivery: Immediately after purchase, download links are provided. The files can be expanded using any ZIP utility. Mac users can simply double click the downloaded file.
Disclamer: Steinway, Yamaha, Kawai, Plogue and sforzando are all trademarks of their respective owners. In no way is Production Voices associated with these companies or brands. Their mention is only to indicate the instruments and software used to make the virtual piano instruments.
Requires 64 bit version of Plogue sforzando available HERE for free.
Mac OSX 10.7 or greater or PC with a 64 bit version of Windows.
11 GB of free hard drive space. 8 GB RAM. Fast 7200 RPM hard drive or a solid state drive.
Solid State Drive recommended for best performance.
Sforzando works standalone and with all major DAWs such as Pro Tools, Logic Pro X, Ableton, Studio One, Cubase, Reaper etc. Sforzando supports AU, VST and AAX plugin formats.
*Note about file size: SFZ Piano Bundle samples are provided in FLAC, a loss-less file format that sounds identical to WAV while taking up less space and resources. SFZ Piano Bundle source sample size before conversion to FLAC is over 30 GB! The digital delivery size is about 10.8 GB with no loss in quality.
Death Piano for sforzando Presets Demo:
Production Grand Compact Intro: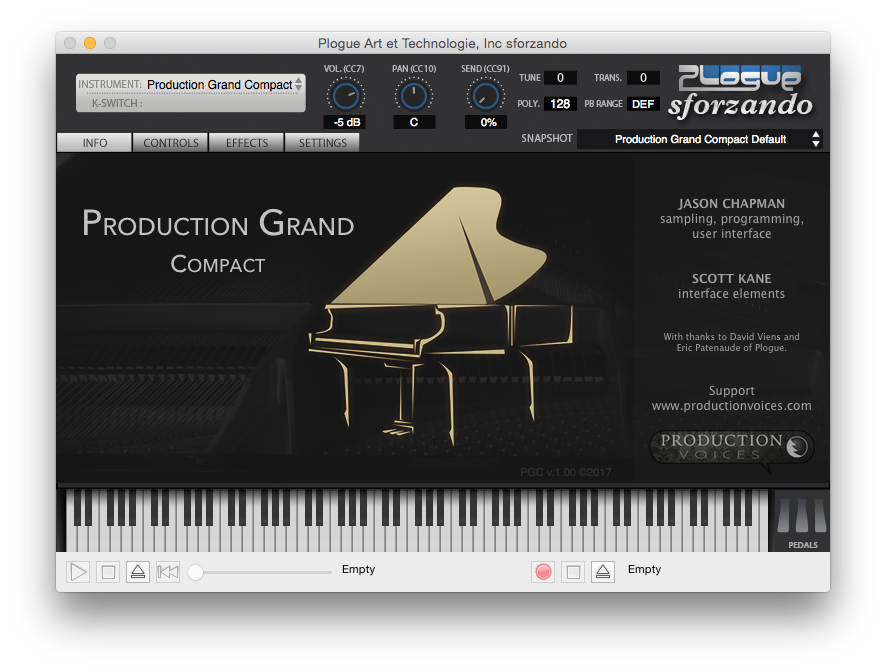 CRYSTAL CLEAR PIANO TONES
Production Grand Compact is a sampled Yamaha C7 grand piano that is recognized as one of the staple grand pianos used in recording studios around the world and on concert stages. The sounds of the Yamaha C7 are clear and articulate, perfectly suited for a wide range of styles.
TORTURED AND DEMENTED PIANO SOUNDSCAPES
Death Piano takes piano sounds to the point of breaking. It is full of reverse samples and obscure piano tones that are sure inspire. The sounds include plucked piano sounds, upright parlour piano a Steinway D, but don't expect classical tones here! The sounds are programmed with synthesis elements such as LFOs and filters to morph the pianos into ear-catching inspiration.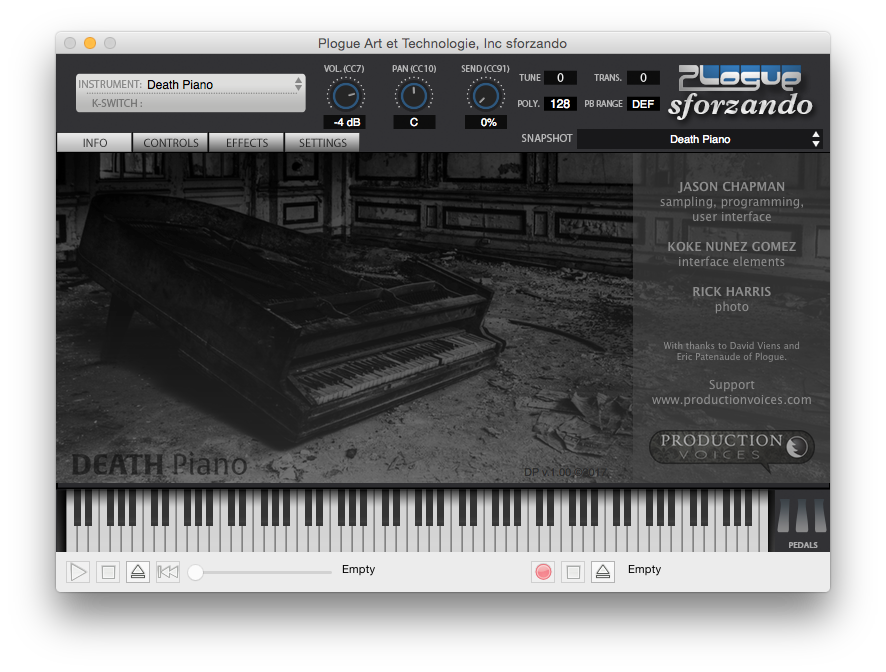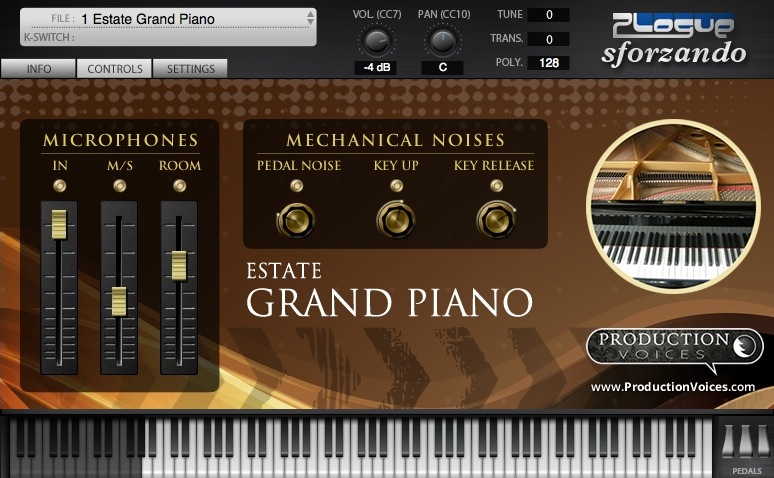 JAZZ & LOUNGE ROOM TONE
Estate Grand has 3 microphone perspectives that give you a large sonic palette to work with on this sampled Kawai GS 60 grand piano. The inside microphones are crisp and articulate while the room mics give a natural lounge sound unlike any other piano library. This sampled grand is brighter than most pianos and it gets solo attention in a mix without too much effort! It really is a hidden gem among other "standard" piano types such as Steinway D.
VINTAGE ELECTRIC PIANO VIBES
Electric V gives you that familiar vintage electric piano vibe with the superior dynamic range of the Mark V. While many electric piano players have played the MK I and Mk II versions of this classic electric piano, the Mark V is rare and one of the most sought after electric pianos for its tone and playability. Electric V includes "personality" keymaps that can be used to match your playing style allowing for near identical playing experience to the original or optimized voicings for more aggressive or laidback styles.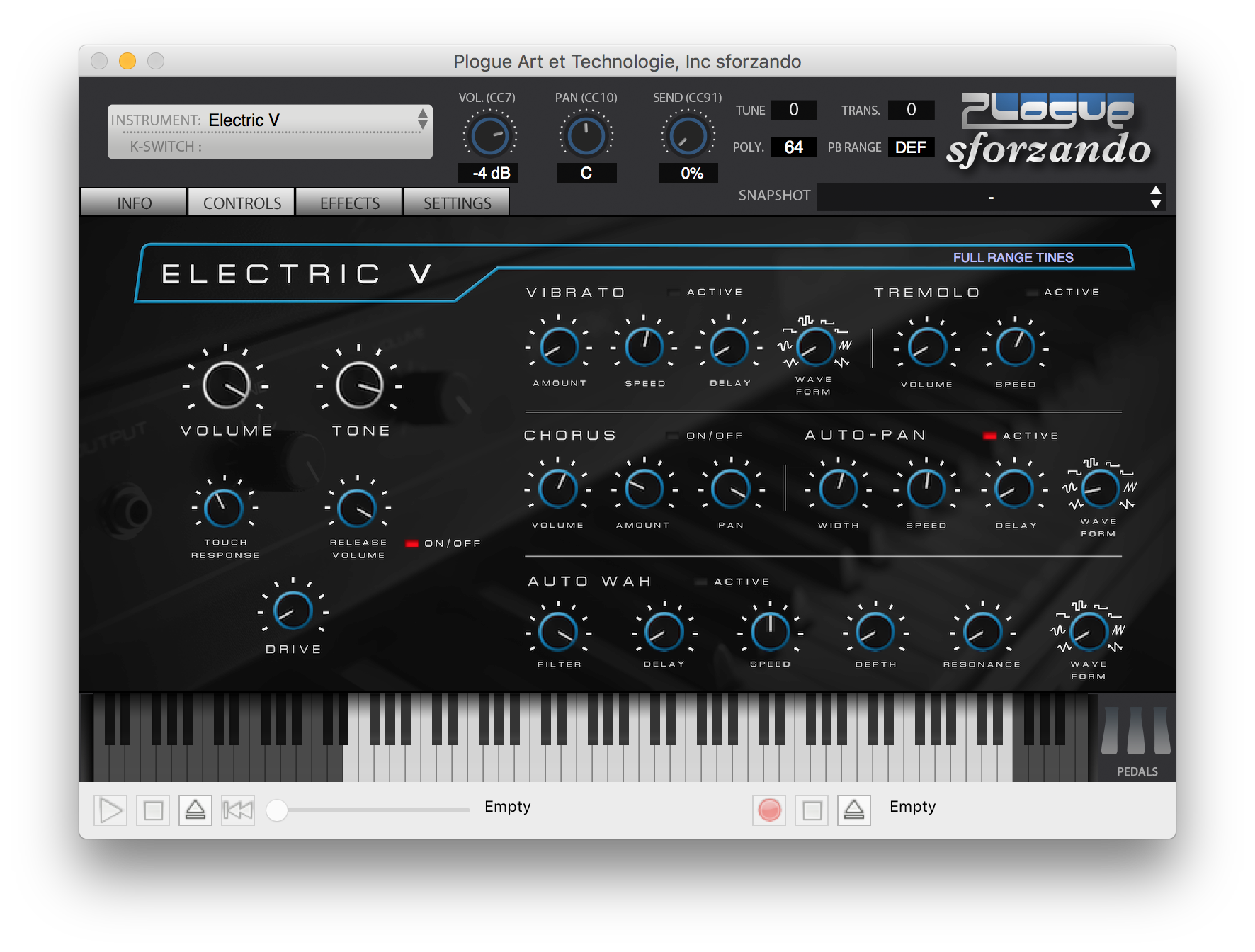 When you close your eyes it sounds as if you are really sitting beside this 9′ monster.
Concert Grand Compact user email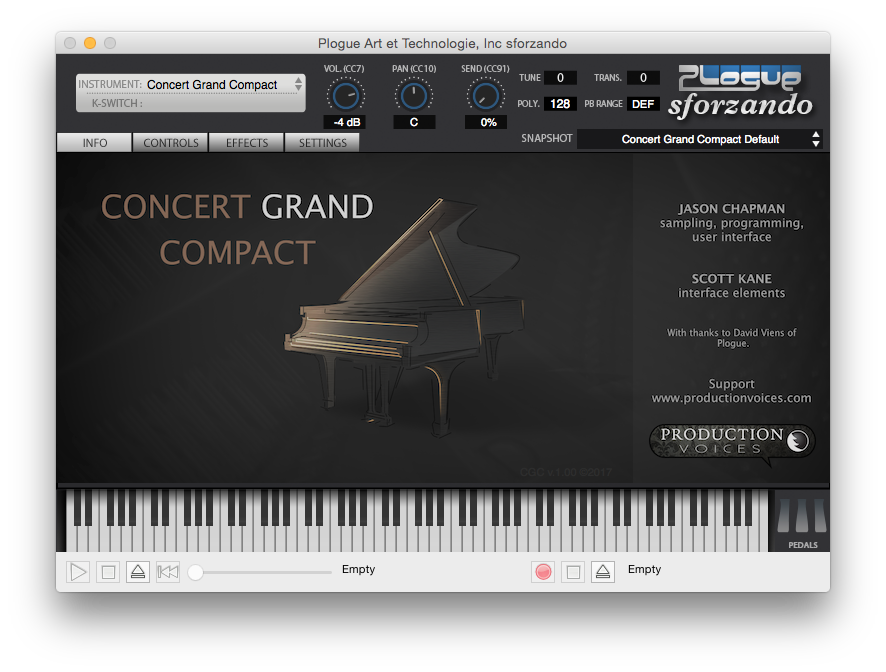 CLASSICAL PIANO TOUCH AND TONE
Concert Grand Compact is a sampled American Steinway D, perhaps the most recognized piano for classical piano concert performance playing and even preferred by some Jazz pianists. If you listen to iconic classical or jazz piano recordings, chances are that was a Steinway D, the iconic king of the concert stage. For decades, performers have requested the warmth and grandeur of the Steinway sound. It is in heavy contrast to bright pop production pianos found in many recording studios. It's elegant and refined. Concert Grand Compact captures the richness of this American standard and puts it right at your fingertips.
Wherever you play, the tone feels always full, bright, warm and lovely. I am really in love!
Concert Grand Compact user email