Professional multi-microphone piano sample libraries for
Producers, Songwriters, Composers and Performers.
Kontakt Compatible Libraries
Production Grand 2 Producer Video
Dial in your piano sound with multi-microphone control.
Experience the difference multiple microphone piano samples make on your productions and performances.
What users are saying about our Piano Sample Libraries for Kontakt
You made a amazing product. It beats ivory in my choice of piano. Great characteristic and clear highend overtone. I really like the vintage patch. It sounds fantastic.

—
Shin Kim, Film Composer, Production Grand User
The samples are among the cleanest piano samples I have ever heard and certainly the best I've ever used. The ability to change instantly the feel of the room and mic positions is like a dream. I have just been sitting here with my headphones on feeling like I am sitting at a grand piano.

—
Tyler Done, Song Writer, Production Grand User
  I am so impressed by the sound of the 24-bit version of Production Grand. All in all, a fantastic product! I knew how good Production Grand was just from the 16-bit download but of course the 24-bit is yet another level of realism.

—
Bliss Payne, Production Grand User
Production Grand is a refreshing, instantly playable (and enjoyable!) piano. I'm thrilled at how well it compliments my electronic-orchestral sound pallete.

—
Neil Parfitt, Composer, Production Grand User
I am obsessed with virtual pianos and I've tried all of them. The detail in the Production Voices Pianos makes them special. The pedal up and pedal down samples and the velocity layers not to mention the recording quality, really make it feel like the real thing.

—
Dan Brodbeck, Producer, Production Grand User
This gives you the feeling of a delicate, yet strong, but luxurious instrument. Slightly different to anything I'd played before. Quite a treat.  It's just lovely.

—
Gustavo USA, Production Grand Gold User
Musicians choose Production Grand
One of Canada's hottest rising bands, Half Moon Run, used Production Grand extensively on their single, She Wants To Know.

Half Moon Run – She Wants to Know (Official Video) from Half Moon Run.
Producer Nygel Asselin used Production Grand for all the piano sounds on the Half Moon Run debut album!
Production Grand 2 Piano Library
Production Grand 2 available as a download!

24 Bit 96 kHz, 430 GB,
Starting from $149
Production Grand 2 Videos
Experience Quality Instruments
Production Voices records piano sample libraries the way professional studios record pianos. The result is true production quality recordings from piano samples!
We use only the finest microphones and equipment to create our piano samples. These include B&K, Neumann, Rode, AKG, Coles microphones and Apogee Symphony I/O. Our piano libraries have multi-microphone control and some have additional features such as true hammer noise, pedal noise and more!
Starting at ONLY $39.99!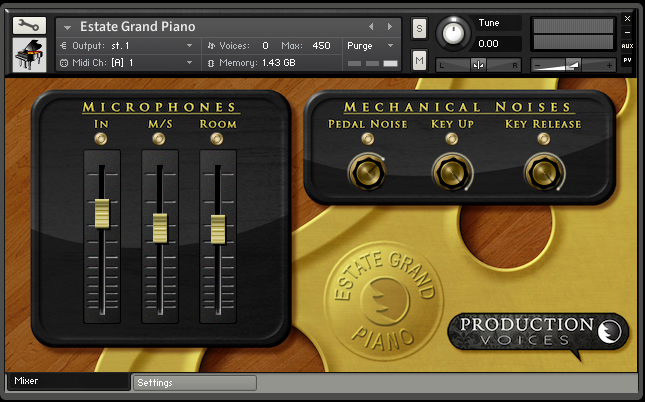 Estate Grand. Piano character that cuts through on stage and on record! $79. Formats: Kontakt or the free Plogue Sforzando. No Kontakt needed!
Why You Need Multi-Mic Pianos
Instead of sifting through piano presets only to settle on ok, dial in your piano sound with the precision of a producer or professional audio engineer. The result is exceptionally better piano sounds that blend into your productions, songs and sets.
Signup for News, Discounts and Promotions!